"These are vehicles that traverse some of the most pristine environments: mountains, trees and lakes"
Content of the article
Taiga Motors Corp. said it began delivering the Nomad, the world's first electric snowmobile, albeit late in the season as pandemic-related supply issues delayed its debut.
Content of the article
"We are fortunate to have a very large backlog of requests for these vehicles," CEO Sam Bruneau said in an interview March 18, a day after spring temperatures melted much of the snow in Montreal. , where Taiga is based. "We are working to ramp up production to make sure our customers get their units as soon as possible."
Bruneau declined to specify the exact quantity of orders, noting that they would be disclosed when their financial statements are released at the end of the month. According to a November Press releasecustomers had pre-ordered 2,632 units as of October 2021.
The Nomad costs around $19,000 in Canada, compared to the average price of a snowmobile of $15,000. Other Taiga models include the Ekko Mountain and Atlas Crossover snowmobiles, as well as the Orca electric jet ski.
Content of the article
Bruneau acknowledged that the cost was higher than average, but added that the savings in maintenance costs more than make up for the difference. Hauling jerry cans of gasoline to the dock to fill up your jet ski's tank is a thing of the past, Bruneau said.
In terms of cost, Taiga's machines are on par with equivalent high-end, performance gasoline models, Bruneau said.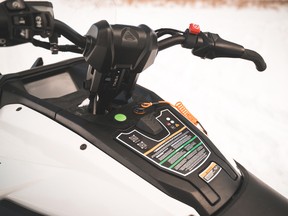 Taiga was founded by Bruneau and two other McGill University engineering students with the goal of producing the world's first electric powersports vehicles, including snowmobiles and jet skis.
The three founders grew up in Quebec, where snowmobiles were ⁠— and continue to be ⁠— ubiquitous. "We started wondering why nobody was working to electrify these off-road vehicles when it makes so much sense for them to be electric," he said. "These are vehicles that traverse some of the most pristine environments: mountains, trees and lakes."
Content of the article
But personal watercraft and snowmobiles are known for their powerful engines, high speeds and easy maneuverability, characteristics that have proven difficult to replicate with electricity.
Creating an electric off-road vehicle is different from creating an electric car, Bruneau said. All-terrain vehicles must be lighter, but equipped to withstand tougher and more unforgiving terrain than a standard passenger car.
The company's research and development costs have steadily increased.
Ontario at Risk of Losing its Automotive Crown as Cheap, Green Power Gives Quebec the EV Advantage

General Motors returns to Quebec to manufacture "cathode active material", not Camaros

Steven Guilbeault counts on carbon capture, electric vehicles push to reduce emissions
Content of the article
Taiga is working to create infrastructure for its vehicles and has launched an off-road electric charging network, which consists of "on-water" charging facilities at marina docks and in forests. Vehicles can also use standard electric vehicle charging stations or a wall outlet in your home.
The company is present in Ontario and Quebec, but hopes to expand to other Canadian provinces and territories, as well as the United States. In the long term, Bruneau hopes to expand into other off-road vehicles, such as side-by-side vehicles.
"It was a long road to get here," he said. "Six years of intense R&D, then a really big push to get it all into production."
• Email: [email protected] | Twitter: marisacoulton